For some, simply thinking about dieting is enough to trigger hunger pains. It's tough to feel motivated when images of carrot sticks in snack bags and half-cup portions of brown rice come to mind. That's also why the term "diet" is avoided in the context of weight-loss plans. Still, it's a hard association to break that often discourages people from taking those first steps.
If the idea of healthier eating sends you into withdrawals before you even begin, relax. You

don't have to give up your favorite foods, but you do have an opportunity to be more creative. With smart substitutions you can even still eat pizza—especially this pizza.
Finding alternatives that work is the tricky part, and there are plenty of ones that don't. If you've tried vegan chicken and waffles—or fried cauliflower drenched in maple syrup—you know exactly what I mean. Other substitutions can take things a little too far by using fillers and additives to try and recreate the shape and texture of real foods, like many faux-meat products. It's important to know the ingredients before deciding if something is actually a healthier choice. By substituting with fresh, whole-food ingredients, many of your favorite comfort dishes can be tweaked into healthier versions.
Pizza—without the grease and paper towel blotting—is a great example. If you haven't tried it, a crust made out of cauliflower sounds like a stretch, but I think you'll be pleasantly surprised. Of course it's not bread, but it's perfectly crispy enough to pick up with your hands and hold all of the toppings you can pile on.



Image: sunny mama, CC-BY
And it's not as complicated as it sounds. Use a food processor to pulse raw cauliflower florets down to the size of rice (or a cheese grater by hand works just as well). After the cauliflower rice is cooked, the key step is squeezing out all of the water with a cheese cloth or thin dish towel so it bakes into a firm, dry crust. It becomes dough consistency after blending in an egg, and then you can mix in your favorite seasonings and ingredients, like oregano, basil, garlic and goat cheese.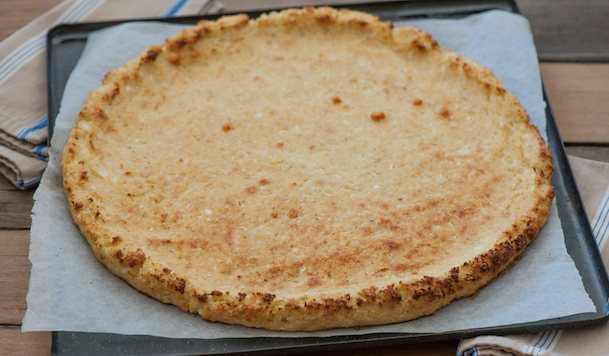 Image: jules, CC-BY
Feeling deprived can be one of the biggest pit-falls on the path to dietary improvements. But if greasy pizza can be transformed into a health-conscious food, it proves that the possibilities for still enjoying your favorite meals are endless.


Ingredients


-1 medium-sized head of raw cauliflower, washed and broken up into florets

-1/2 cup crumbled goat cheese (or any soft or shredded cheese)

-1 egg

-2 garlic cloves, minced

-Italian seasoning and salt to taste

-1/2 cup pizza sauce

-1/2 cup shredded cheese for topping

-Your favorite pizza toppings

Directions


-Line baking sheet with parchment paper and preheat oven to 400 degrees.

-Pulse cauliflower florets in a food processor, or grate florets into a bowl using a cheese grater.

-Spread cauliflower rice evenly on baking sheet and bake for 15 minutes.

-Remove cauliflower from oven and let cool for a few minutes, then scoop batches into a cheese cloth, twist tightly and squeeze out as much water as possible.

-Place cauliflower pulp in a bowl, and beat in 1 egg to form dough.

-Mix in goat cheese, garlic, and seasonings.

-Place dough back on baking sheet on new parchment paper and press out evenly into desired crust shape, about 1/2 inch thick (making the edges slightly thicker).

-Bake crust for about 20 minutes or until slightly browned, meanwhile prepare pizza toppings.

-Remove crust from oven, spread pizza sauce, sprinkle cheese, and toppings evenly across, and bake another 5-10 minutes or until cheese is melted.


Top Image: kirybabe, CC-BY


Ashley Sigmund is a Denver-based RDN with ten years in the medical field helping patients and clients improve their health and fitness.